this zapper mosquito killer lamp product ship from USA warehouse. so faster.


The electric mosquito zapper uses a 15W light. The bug zapper is suitable for indoor and outdoor.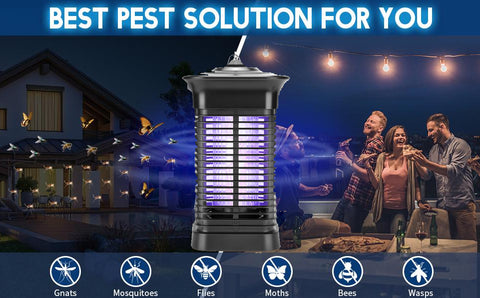 White Kaiman Bug Zapper with Light Sensor ,it is durable and waterproof,which can use indoor and outdoor if you want.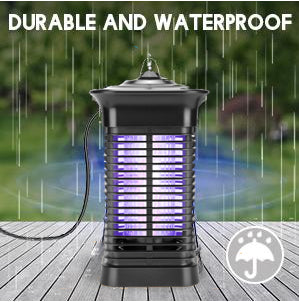 Summertime is all about fun in the sun…that is, until the bugs come out. Dealing with unrelenting hordes of pesky insects can really put a damper on your evening plans; some days, you may even want to cancel them altogether to avoid being covered in itchy mosquito bites. While we imagine you've already tried several methods of keeping the bugs at bay, judging by your presence, we bet you haven't yet tried bug zapper.
The  outdoor bug zapper you will need: Kill the most mosquitoes with this extremely high powered 4,000 volt electric grid mosquito bug zapper. Flying pests are no match for the White Kaiman line of Zappers

Automatic on and off light sensor – One of the only mosquito killers with a built in light sensor that will turn the light on at dusk and off at dawn. No need for a timer but if you chose to use a timer, cover for the light sensor is included

Over 1000 sq ft of bug free coverage – 1000 Feet free of flying pests and mosquito. This amount of coverage give the average size yard with patio or deck an enjoyable outdoor area. Not to noisy but loud enough to know its working!

Bug Zapper outdoor and indoor - Protect your outdoor and indoor areas, perfect for a patio, garage, deck, lawn , garden. Plug in and enjoy a pest free zone

simple remove the tray, it can be easily cleaned .

Steel Zapper Grid Pushing upwards of 4000 volts provides a quick kill and allows the bugs to drop into the tray instead of sticking as often to the grid.

Insects are attracted and easily killed by the high voltage metal grids, this steel grid screen protects you and your family, preventing accidental contact.
Can this electric bug zapper both work for indoor and outdoor?

This bug zapper is rain-proof and sun-proof. In addition to being used indoors, the unit can also be used as an outdoor mosquito zapper.