What's USB PD charging?
USB PD, Full name is USB-PowerDelivery, it is a fast charging specification developed by the USB-IF Association.
USB PD increasing power delivery through USB cables and connectors and extending cable bus power in USB applications. This specification enables higher voltages and currents and delivers up to 100W.
USB PD not only can supply power to mobile devices, but also directly supply power to notebooks, monitors, etc.,  and it can realize bidirectional charging, that is, the direction of power transmission can Be freely changed.,
With PD technology, if you only have 10 minutes to charge, you can get up to 20% battery life. 
If you have 30 minutes, you can get up to 50%*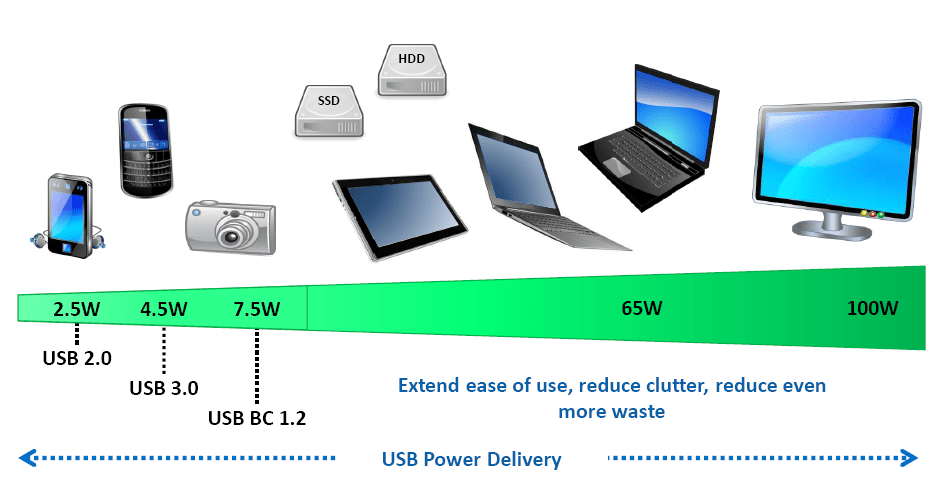 Another specification of USB PD can also be seen in the following figure: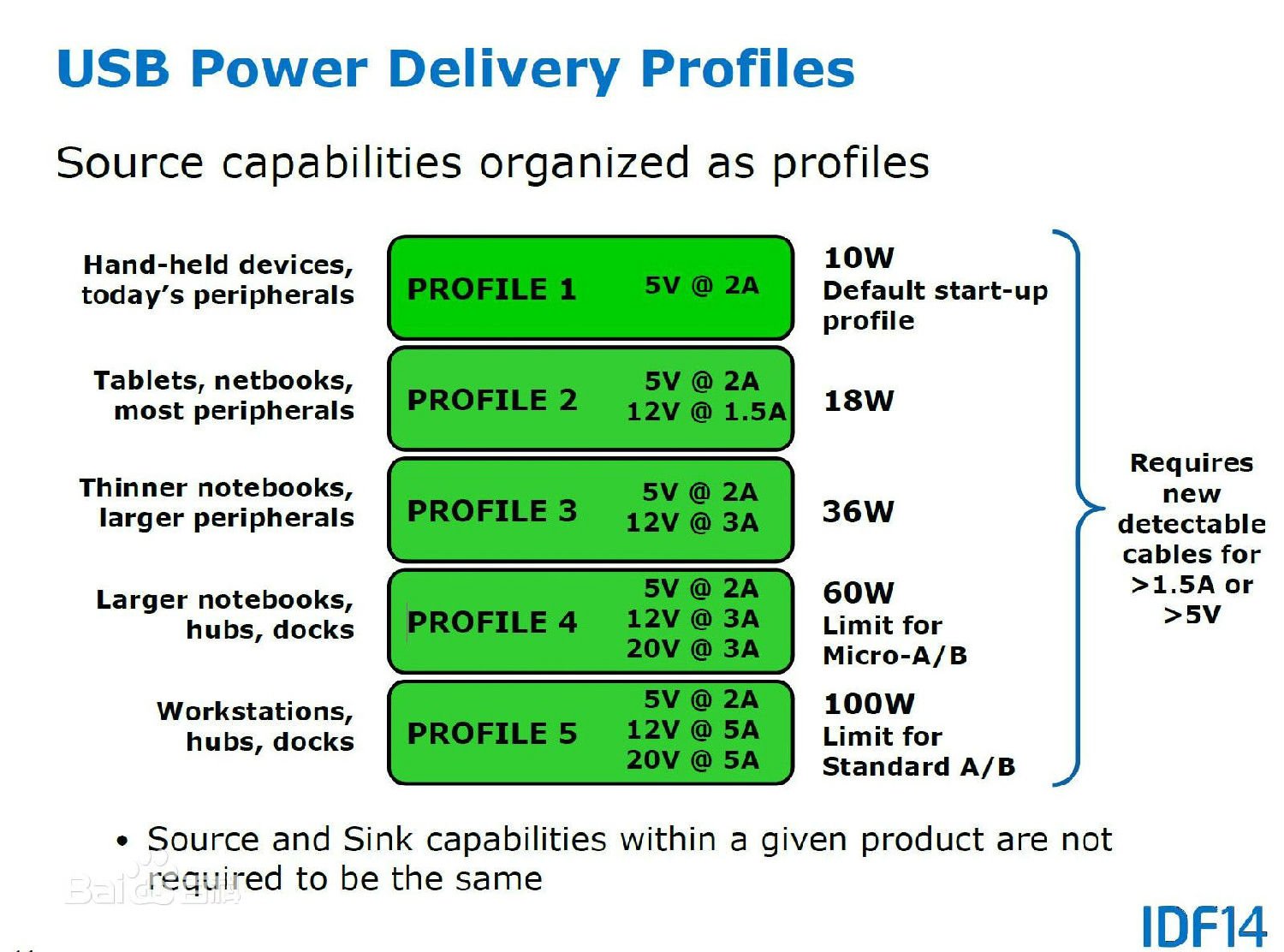 Why are USB PD products or  USB C/ PD power bank hot in the market?
Let's take a look at the major events in the fast charge industry in recent years:
1. In 2015, Apple Inc. released the first laptop New MacBook with USB-C interface and support USB PD fast charging.
2. In September 2017, Apple released the iPhone X, iPhone 8/8plus three mobile phones to bring the USB PD fast charging application to a new level.
3. In December 2017, at the Xiaolong Technology Summit, Qualcomm first introduced the QC4+ charger and car charger compatible with the USB PD 3.0 (PPS) fast charge protocol, which indicated the direction for the charging method of the mobile phone equipped with the Snapdragon platform.
4. In July 2018, the members of the USB-IF Association have exceeded 1,000, and more than 100 certified USB PD&Type C products have been...
So do you understand the reasons for the hot sale of USB PD fast charge products, especially fast charging power banks for mobile phones? 
At the same time, future computers may use USB-C as the only interface standard and gradually abandon independent HDMI, DVI or Ethernet interfaces. At present, Apple's new computer has completely replaced the USB-TYPE C interface as the only interface, and the lightning interface has also been updated to the USB TYPE-C. 
what kind of smartphones support USB C / PD charging? 
Latest released smartphones such as Samsung Galaxy S9, S9+, S8, S8+, iPhone Xs, Xs Max, X, Xr, X, 8, 8+, Google Pixel 3, Pixel 2, Motorola Moto Z2, LG G6, Sony XZ and XZ Premium and Oneplus 5T,  all support USB-C charging.
USB-C PD is now preferred and recommended charging standard for both Apple's new and upcoming iPhones and the future Android phones and it is safe to assume that buying a USB-C PD powerbank is a future-proof investment.
If you have a QuickCharge 3.0 phone and plan to buy a powerbank, you can buy a dual QC 3.0 and USB-C powerbank such as  Heloideo USB C input /output  Power banks 20000mah for maximum compatibility and future-proof usability.
What's PD power bank ?
the 20000mah PD power bank can fully charge cell phones for 6-8 times,and charging time is 50% less than normal power bank.Users can take this power bank easily to travel around the world, fully meet the needs for charging mobile phones and tablets, enjoying the trip with enough charge power. It is perfect external battery backup for cell phones, stable power supply with USB port.
This PD power bank with a built-in AC plug, no longer requires user to find an AC adapter to recharge this power bank. With its 100-240V voltage design, this portable external battery is suitable for use in many areas of the world. It can be plugged into the wall outlet and recharged by the built in AC plug not only in the United States, but also in the countries and regions with American standard AC plug connections such as Canada, Mexico, Japan, Philippines, Thailand and so on.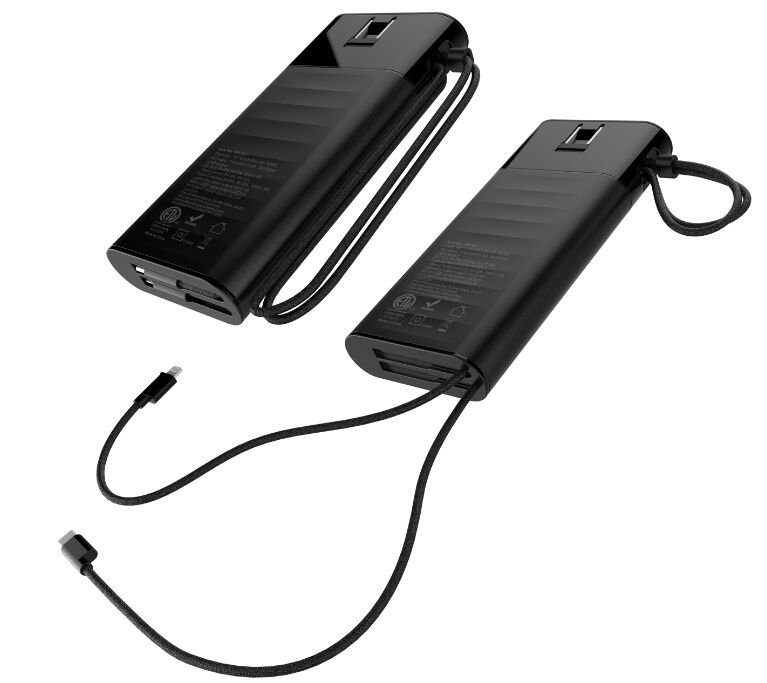 portable charger with built-in AC adapter (100-240V) + built-in cable (5V/3A 9V/2A) + USB output port (5V/3A). With built-in type-c cable and other charge cable and an extra USB output port with 5V/3A output to support all mobile phone.More importantly,as fast charge QC3.0 PD 18W total 5A 28.5W(if 9V 2A fast charge must use the original charging cable of your phone), they charge very fast. and it can charge two devices simultaneously and recharging its batteries through the AC adapter. Extremely user friendly design, buy one you can get 4 integrated functions.